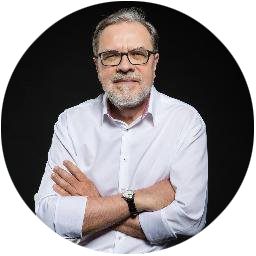 While working in the Department of Animal Physiology, Adam Mickiewicz University, Poznań between 1973 and 2003, Professor Andrzej Lesicki conducted research on the regulation of carbohydrate metabolism in tissues of invertebrates, i.e. in crustaceans, insects and molluscs. One of his major research accomplishments was the discovery of the regulation mechanisms of two key glycolytic enzymes, namely those of phosphofructokinase and pyruvate kinase present in mutually interconvertible forms dependent on the presence of particular activators and inhibitors where fructose-2,6-bisphosphate plays a significant role. Since 2003, along with a team from the Department of the Cell Biology, Adam Mickiewicz University, Poznań that he managed, professor Andrzej Lesicki has focused his research on the structure and function of cell membranes, in particular on those of receptor proteins (nicotine receptor) and water channel proteins (aquaporins). Research on the nicotine receptor concentrates, among other aspects, on nicotine addiction. Work conducted by Professor Andrzej Lesicki's team made it possible to characterize aquaporins in pulmonate snail organs for the first time in the world. Professor Lesicki also conducts research on animal physiological ecology, particularly on animal life in extreme conditions such as in oceanic hydrothermal vents.
Since 1993, Professor Andrzej Lesicki has had close ties with the Association of Polish Malacologists (APM). He is a founding member of APM and was the Association's treasurer between the years 1995 and 2004 and its President from 2004 to 2012. During annual malacological seminars he presented a number of research papers. His current research concentrates on the use of molecular biology techniques in the identification of freshwater (Lymnaeidae) and land (Hygromiidae) pulmonate snails. One of the results of this recent research was the discovery of the presence of the invasive
Monacha claustralis
snail in Poland. Lately, Professor Andrzej Lesicki, along with a team of malacologists from the University of Siena, Italy, has published several articles on genetic differences and phylogenetic relations as well as on the distribution of
Monacha cantiana
and that of other species of
Monacha
genus. He has also been the editor-in-chief of the malacological journal
Folia Malacologica
since 1998.

https://orcid.org/0000-0002-1924-1934